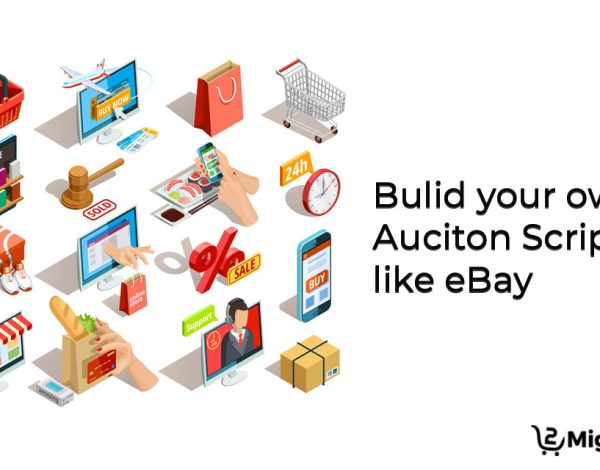 Build your own auction script like eBay
Online auction script is the traditional auction that entangles a lot of range of participants for bidding online. It is a practice of a seller availing their product or service at an auction for bids. From the auction, the buyers will bid on the products or services based on their interest and budget.
Auction script like ebay
An online auction is equal to the traditional auction. It provides opportunities for people from different components of the world to trade their products or services. Migrateshop's eBay Auction Script is user-friendly. It compatible with all devices, including desktop, mobile and tablets. It is a ready-made auction script, that you can use for your online auction website. The eBay clone auction script offers a user-friendly back end, which will allow the auction site's admin to list the product as a single seller. Also, allows to create a marketplace for multiple sellers with unlimited categories. The admin can manage everything from one central location. The b2b/b2c eBay style website is extremely flexible, fast. It is customizable with 100% PHP open source code. That keep company with straightforward navigation.
The auction starts with the little bid amount, and it works hard to fulfil the demands and recognition. Online Auction Websites are extremely popular with high-traffic wherever anyone can sell product instantly. Migrateshop's eBay clone script integrated with the prominent WooCommerce plugin. It comes with various features like Commission & Withdrawal, Multi currency and multi language support. eBay clone script allows the seller to sell both the physical and digital products. It let you build your own auction script instantly without any extra effort.
There are many auction scripts are available online to start the ecommerce markertplace business. Migrateshop provides auction software like eBay. This is the clone script of ebay. It is a perfect Multi-Vendor Marketplace website. It is designed using the WordPress cms PHP framework, which is easy to manage and comes with the most advanced site functionalities.
Let's Start Your Own Online Auction Script with our eBay Clone Script. Woocommerce is one of the best eCommerce platforms for the WordPress framework. Here Woocommerce supports both digital or physical goods.