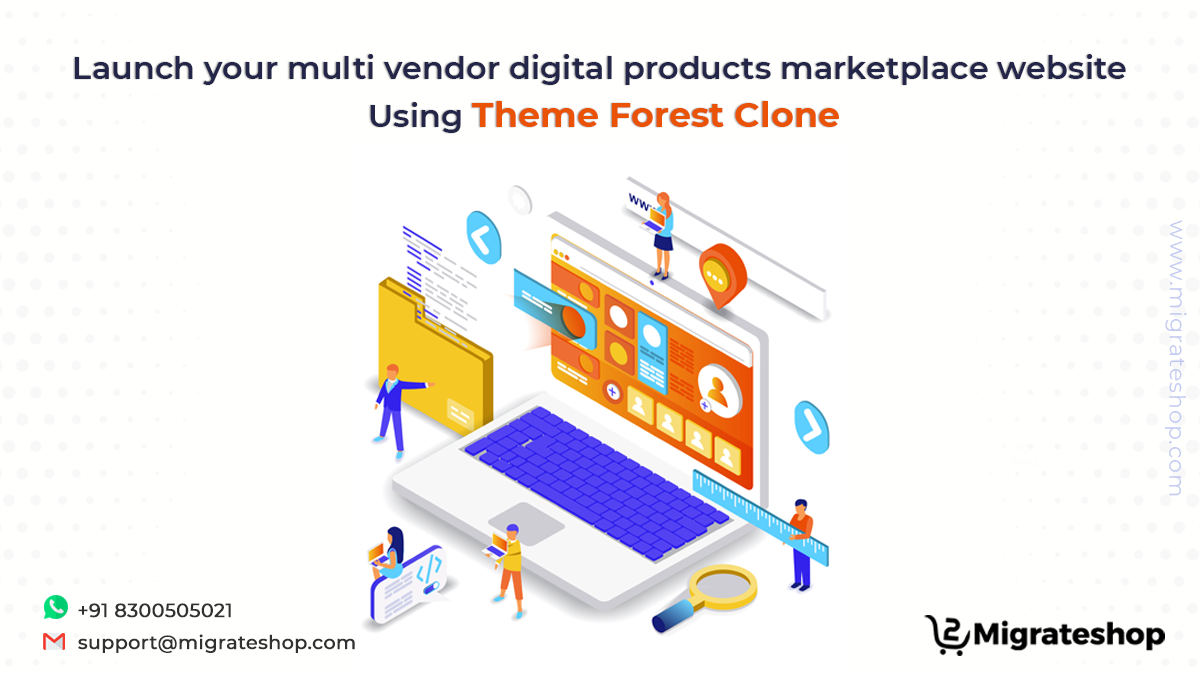 Launch Your Multi-vendor Digital Products Marketplace Website using Themeforest Clone
The Multi-Vendor Digital Product Marketplace is the online platform that designed to selling and buying online digital products like Evanto, WordPress themes, marketplace themes, plugins Woocommerce themes, etc. Also,Migrateshop offers quality products and digital goods scripts. Creating the digital products marketplace business helps to make more profit.
Why Buy2themeforest for Your Multivendor Digital Products Marketplace
Our Buy2Themeforest is a perfect and customized digital marketplace script. It exactly looks and feels like the Themeforest marketplace platform. We're best in the market to selling digital marketplace script similar to Themeforest. It's the completely multivendor Digital Products Marketplace PHP script.
Steps to Launch Your Multivendor Digital Product Marketplace Business
Before creating a Multivendor Digital Product Marketplace Business you have to follow those steps.
Analysis and Research Digital Marketplace Script
Try to find out which are the best digital marketplace script that is most downloaded by customers in the market. Those digital marketplace products are Multi-vendor WordPress themes, marketplace themes, plugins WooCommerce themes, etc.
Identify Right Script for Your Multivendor Digital Product Marketplace Business
In the Market, you can get several scripts that are most effective and low cost. As well as those scripts are customized for both websites and mobile applications like Android and iOS. Most of the customers expect 100% responsible and customized script for their business.
Develop your Marketplace Website
After buying our Buy2themeforest script you can start your own Multi-Vendor Digital Product Business Website. Also, you can earn an admin commission for each transaction done by the customer.
Release Your Website on Market
After completing the all those steps have to test and release your Multivendor Digital Product Marketplace Website on the Market.
Features of Our Themeforest Clone Scripts
Below are some important features which come with our Themeforest Clone Script. They are,
WordPress
WooCommerce
Digital Products
Buddypress Integrated
Commission & Payout
Multi-Vendor Supported
Multiple Payment Gateways
Responsive Design
WordPress Yoast SEO
Live Demo
Customer Discussion
Quick View
Free Items, etc.
Let's start your Multivendor Digital Products Marketplace Business with our Themeforest Clone Script. Our buy2themeforest helps to improve your business quality as well as profit.